One of the frequently asked questions in our helpdesk is, "Can I get to see some of the directory site references?". Ideally we thought user want to make sure whether the theme really works? But recently we asked specifically to all users a reason for asking reference site. 90% of the users replied for NEW IDEAS. Hence for you all, I created this article where we I have jot down list post of 19 local directories of the USA. There are many unique and common takeaways from each of them.
Directory concept as an online business is not only successful but could be converted to into mega success.
With baby steps of local directory site sky is the limit to define the success of a Directory Site. Since the Yellow Pages began hitting doorsteps in 1886, being listed in a local business directory has been an effective and affordable way for businesses to reach consumers in their area. Here is a list of 19 local USA directories. The most common strategy these directory runs is providing free listings for an initial period that could be one month to three months. Let's take a look how they monetized it.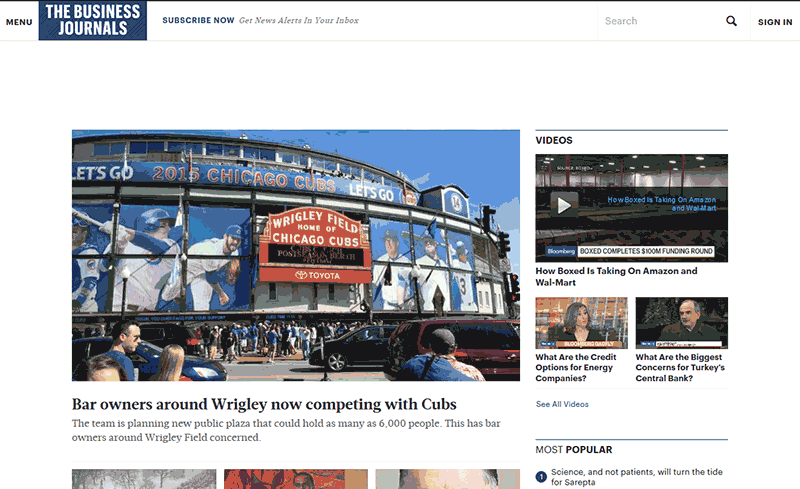 A service of American City Business Journals, a business news site, the BizJournals business directory offers free and premium listing options. As you can see strategic pricing is placed very neatly. Pricing $150 for 6 months ($25 per month) $225 for 1 year (25% discount)
Learning Point: I am definitely encouraged to choose yearly membership over half a year. Nonetheless, user can list for free today that leaves at least an opportunity to be upgraded later stage.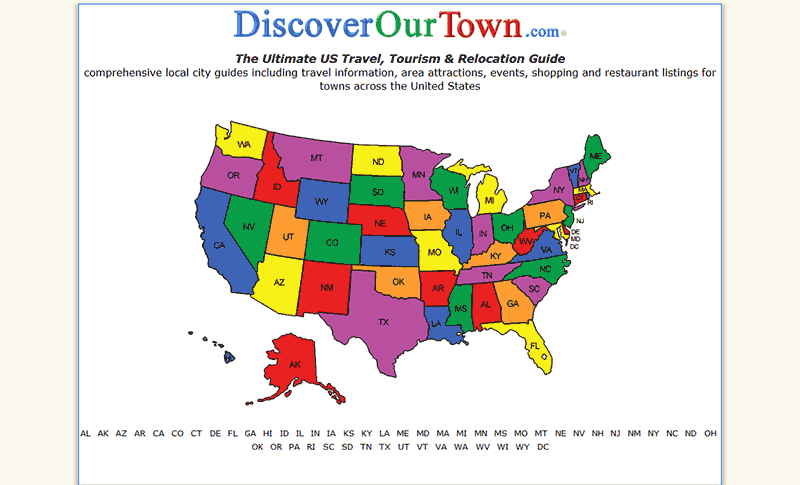 Discover Our Town provides comprehensive city guides that include travel information, area attractions, and restaurant listings for cities and towns across the United States. They present a country map on the homepage for visitor to choose and second homepage shows him his respective state listings. They are still doing free listings it seems.
Learning Point: There are many directory users who offer free listings for months and years to build a powerful listings. Until then they focus on sidebar ads and affiliate marketing through blogs. These two areas also if tap well could provide enough for a healthy living.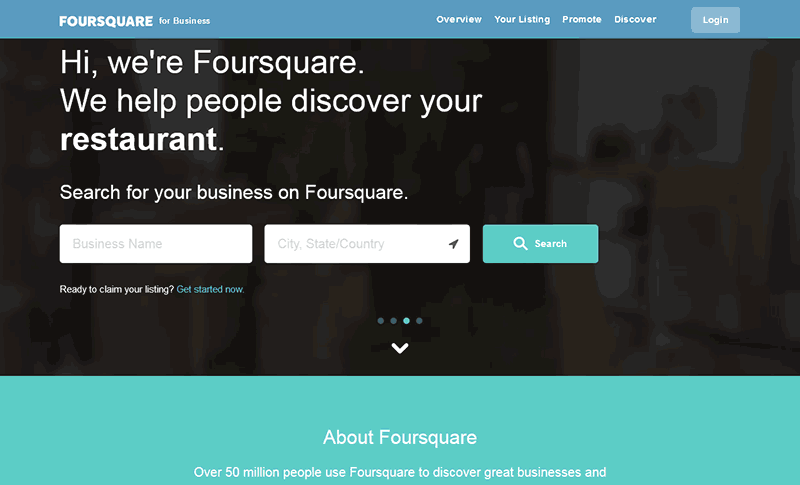 Formerly a site where customers could icheck-in to local businesses, Foursquare changed its model to resemble that of customer rating and reviews sites like Yelp. Businesses can add or update listing information via the business portal. Both free and premium services are available.
Learning Point: Just like other online directories FourSquare has encouraged people to list on the directory for free. However currently Foursquare is on the stage where he has almost every business covered in the given target market. Now they aggressively market to claim your business on the directory with clearly defining what benefits are involved with claiming business.
Brownbook.net is the free local business directory that anyone can edit. They are building a global business directory and anyone can participate. You can add business listings, update them, and review businesses free and instantly.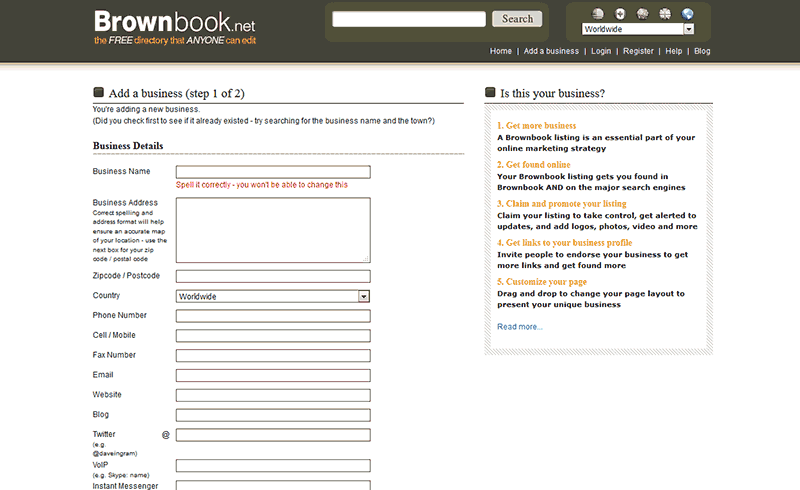 If you own a business you can claim your business listing and promote it in Brownbook.net with additional text, photos and videos, plus you get alerted any time someone reviews your business. Your listing in Brownbook.net helps your website's ranking on the major search engines too, so you'll get found more, not just in Brownbook.net but all over the web. Simply what everything that a directory does but on global scale.
Learning Point: Today directory businesses are demanded by market. In foreseeable future directories popularity will have a lot of control over the market. Having said that Brownbook is another directory that is aiming to be scaled at global level.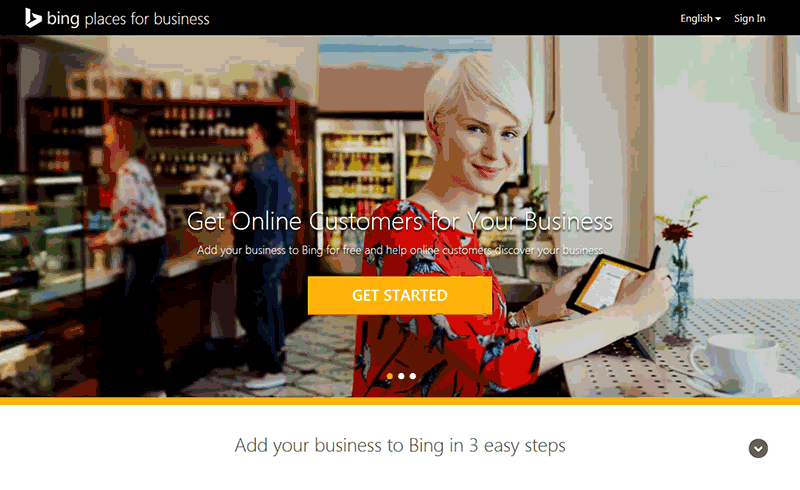 Even though Bing owns less than ten percent of the search market, it is still used by millions of people. Bing Places for Business offers listing options for single and multiple-location businesses, as well as agencies that want to claim listings on behalf of their clients.
Learning Point: Bingplace has a very rich design. Unique point about Bing is it allows single and multiple-location businesses.
Google My Business puts your business info on Search, Maps and Google+, basically their own created brand platforms. So that customers can find you, no matter what device they're using.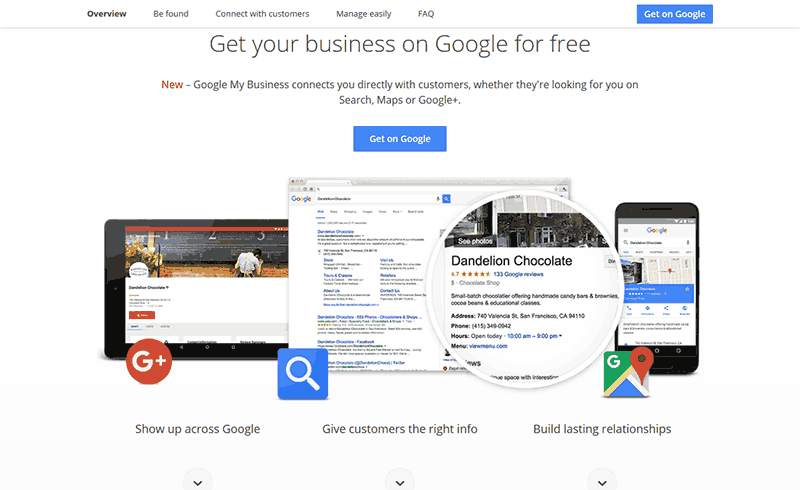 If there is just one site where you claim your listing, it should be Google My Business (GMB). With a search market share exceeding sixty-five percent, if your business canít be found on Google, in the minds of many consumers, it just does not exist.
Learning Point: It's more of a realization to many that Google is nothing but after all an Online Directory.
Manta.com is an online small business service directory and search engine which provides small businesses with networking information. Their corporate slogan is Where Small Business Grows.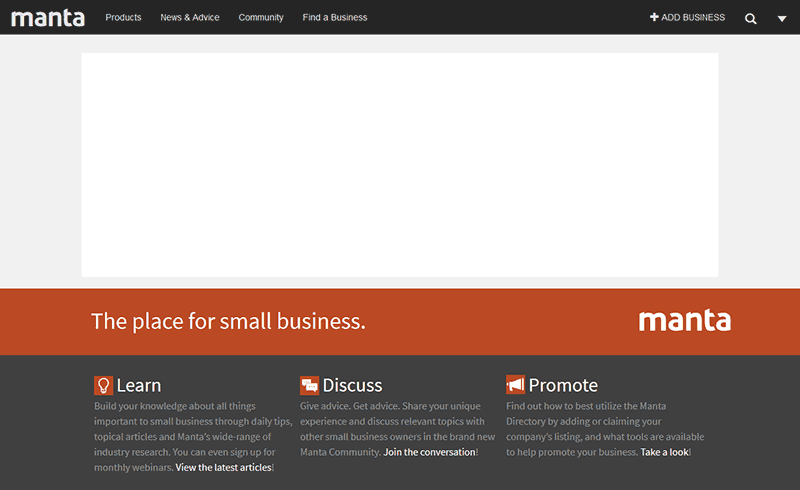 Manta, according to their website, helps small businesses profit, connect and grow through the largest online community dedicated entirely to small business.
Learning Point: My first experience with Manta wasn't great unfortunately. The homepage is not loading at all. Having a powerful hosting is a must in the Online Directory business. Refer our hosting recommendations HERE.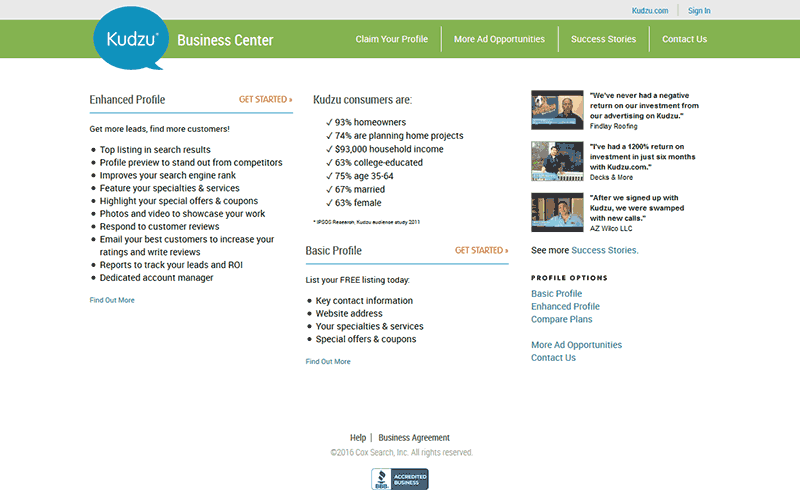 Similar to Angieís List, Kudzu lets consumers find service providers in their local area. Basic profiles contain contact information, the website address, and areas of service or specialties. Listings are free; advertising options are available as well.
Learning Point: Kudzu is in the phase where they are simply building the list currently. They are not focusing so much on the design at this moment but it seems once they have enough business listings they will take a hike.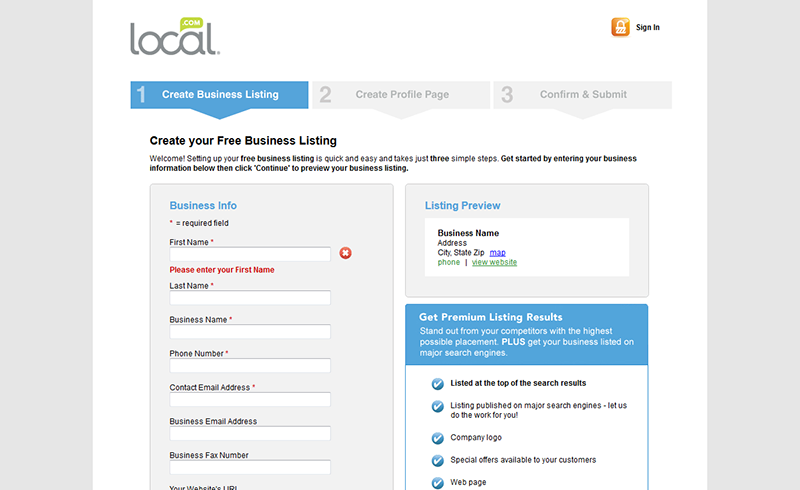 Local.com provides free listings for businesses across popular categories, including auto repair, food and dining, healthcare, professional services, and shopping services. It's basically a general local directory. If you are looking for anything locally, go to local.com.
Learning Point: In addition to business listings, the site includes local community events and activities. Local.com also partners with Yext, a fee-based directory listing service, offering premium plans that enable businesses to add or claim listings on other directories as well.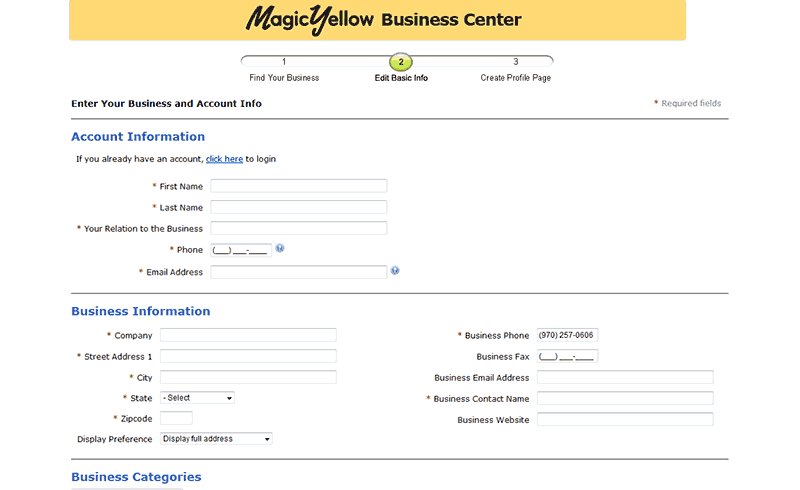 Fashioning itself as a type of Yellow Pages, Magic Yellow helps people find local business information, including user reviews, ratings, and maps. The site has more than 18 million businesses listed in its directory. Businesses can add or claim their listing at no cost.
Learning Point: The reason to still keep directories with same situation is to show you the pattern. Every directory starting from small phase has one thing in common that is building the list first.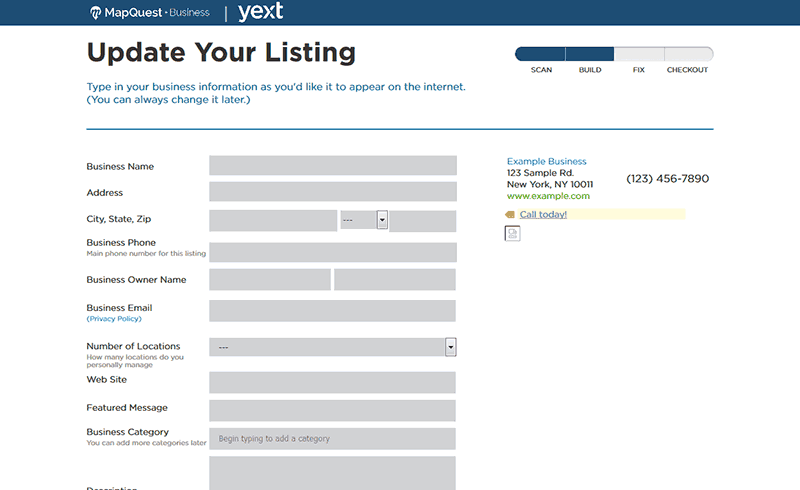 Mapquest uses Yext for business information. However, companies that do not wish to pay for premium listings can contact the business support team to get a basic listing displayed on the site.
Learning Point: Mapquest has a wide map placed on the homepage with all categories placed in the header gives clear vision to user to what to expect from the site. Most directories make a mistake where users get confuse with how to start and where to start. Mapquest has done a great job in providing clear vision to its visitors.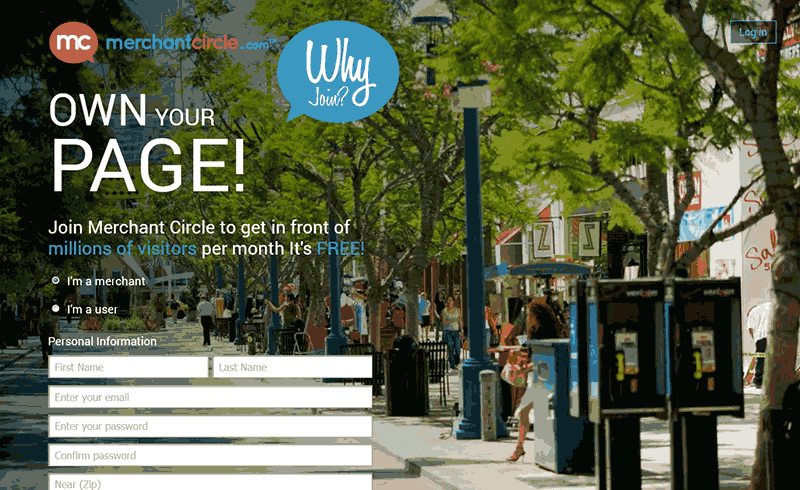 Merchant Circle bills itself as the largest online network of local business owners in the nation. It helps small businesses connect with other local businesses and reach local customers with free marketing tools and social media features.
Learning Point: MerchantCircle focuses on three layers on the homepage. Starting with ability to search with business name and zip code, followed by that highlighting three major concerns – Merchants, Deals & Advice that directory has to offer to visitor. The directory is focusing country level businesses and has offered status/cities to select with abbreviation.
Another Good idea with Yellowbot: To claim a listing, businesses enter their phone number, which Yellowbot searches to find whether or not it resides in the database.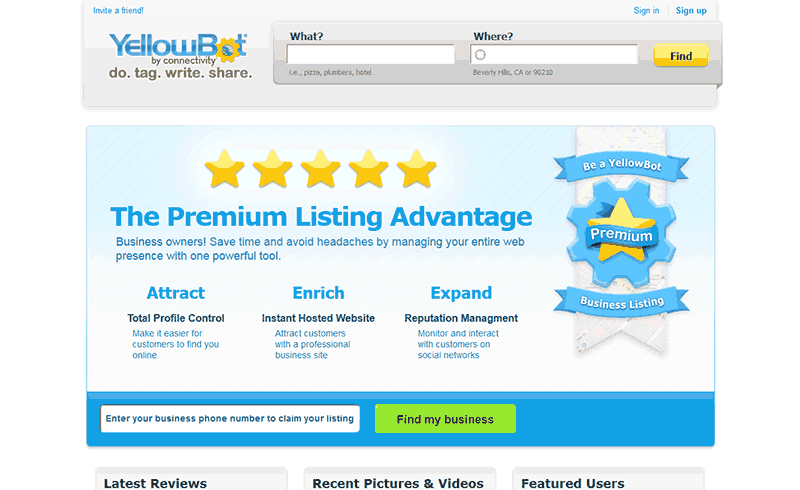 Once found, Yellowbot offers the business either a free basic listing or a premium listing that, for $49 per month, provides an enhanced listing, free hosted website, and online reputation management.
Learning Point: They have combined listing with a service. Many businesses in the beginning might not have finalized their own website. Yellowbot is marketing free hosted webpage along with the service as a package.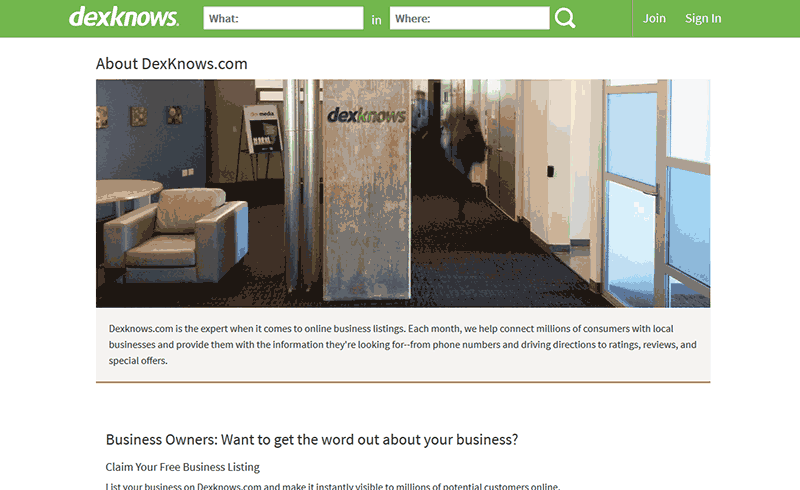 Powered by business listing service Dex Media, businesses can claim their listing for free by calling 1-877-433-9249. Paid promotional opportunities are also available.
Learning Point: You can easily make out Dex Media is aggressively currently to make cash. Though they are willing to give the service in return. Particular this is my favourite idea to go for head hunt of businesses.
Pushlocal is a local directory that allows businesses to send real-time information such as deals, specials, and events to subscribersí mobile devices. Businesses pay a monthly fee to use the service.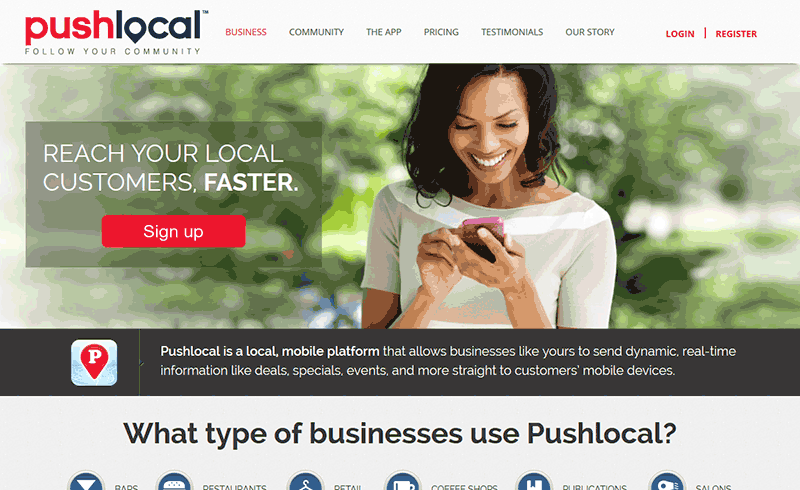 Learning Point: While most people think its obvious that directory is going to list every local business when its said, we are a local directory but as a matter of fact NOTHING IS OBVIOUS. You can have to be precious as much as possible. Push local has done a nice job where they put on homepage simple banner of what all business can find a home with them.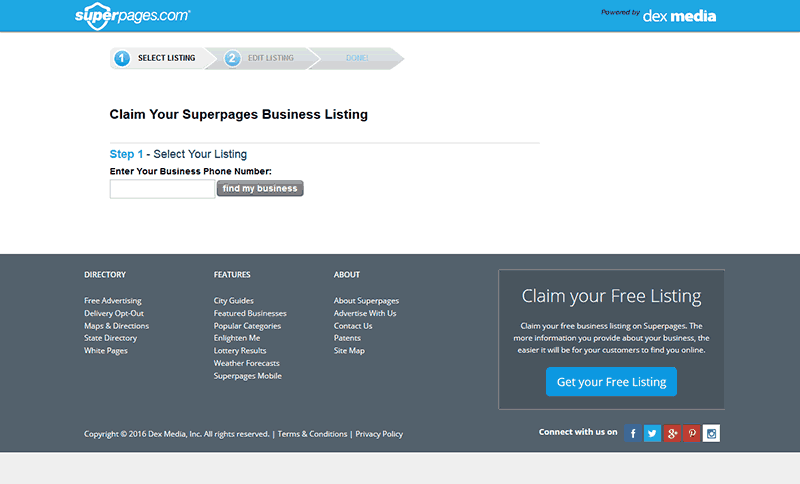 Also powered by Dex Media, Superpages helps consumers find local business information, such as driving directions, hours of operation, website addresses, and customer reviews.
Learning Point: Superpages highlight users uses appreciate their driving directions and hours of operations about the businesses. With provided directory site layout users finds superpages layout friendly to use it for driving directions comparatively. Superpages also offers their other services such as Social Media Marketing, Reputation Management, Digital Display Ads, Pay-Per-Click (PPC), Priority Placement on Superpages.com.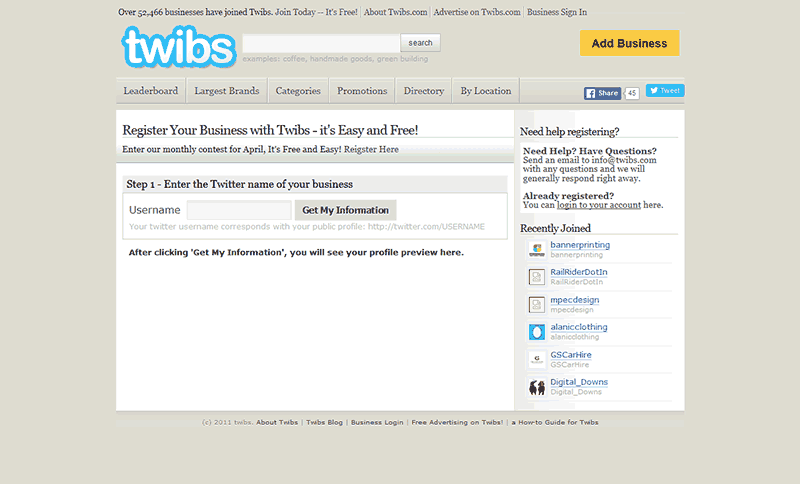 They are big believers in the power of twitter to connect customers with businesses. It's their way to help users to find businesses, both local and national. They still consider themselves as a startup & running directory with basic functionality.
Learning Point: Unlike the other directories on this list, twibs is designed to help users find businesses that have a presence on Twitter. People with vision like this guys seeing in the couple of years Twitter will be on top of everything and preparing their database with this approach. Don't miss to dig them more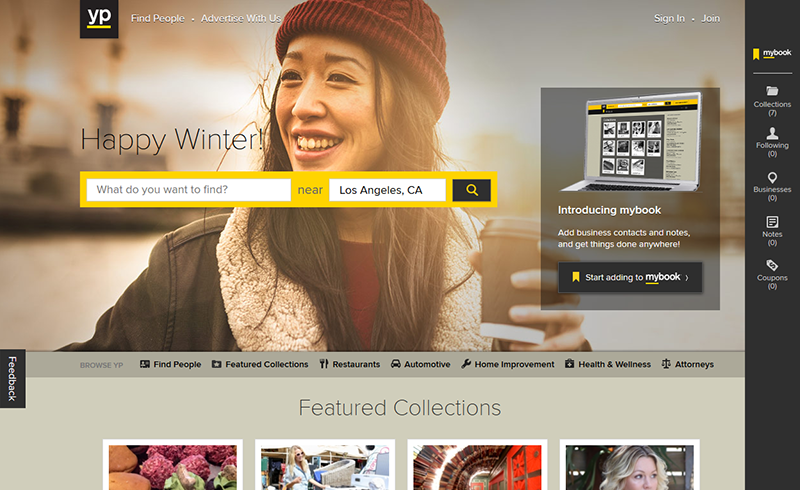 We typically associate Yellow Pages with the traditional business phone book, but it is also an online directory where companies can claim their listing free of charge, update business information, and promote the business through the use of coupons. Advertising is also available.
Learning Point: They are in the root of Online Directory business today. If you understand the real need that we had back end for yellowpages book, you will get one step closer to understand the directory's true need. They have clean design and variety of search ability inside the directory for the listings.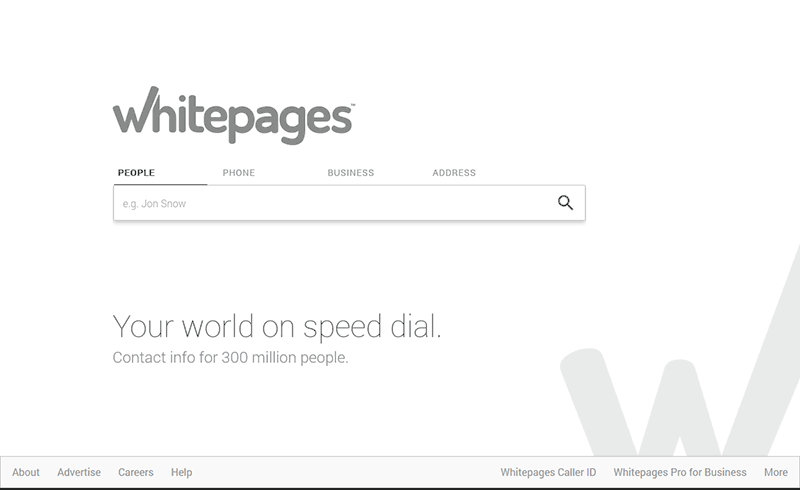 Whitepages is a directory where people can search for information about individuals and businesses. Whitepages also uses Yext for business information but allows companies to add or update their listing for free through Express Update, the same service utilized by CitySearch.
Learning Point: Whitepages is a provider of contact information for people and businesses. It also develops mobile apps and business services that make use of its contact data.
There are lots and lots of ideas in this post if looked at only with perspective of New IDEAS. It is possible you might not like anything at all or you might like all of the above ideas. Some of my customers prefer to be working on more than one directory site at a time. Like one for real-estate and another for Events. Both are tempting niches and logically works for most cities. Important is we have to make a decision. Don't be stuck. You have to decide one set of plans and then stick to it. Decide what niche/theme you are going to aggressively focus this year? Is it real-estate, events, local businesses, restaurants or what. Define it. What is your goal for first 6-12 months? Then, you can hunt for a WordPress directory theme or a multipurpose directory software to create your online directory. So, are you with me? If the answer is yes, leave a comment and tell me your Directory theme. Is it one niche specific like events or is it general theme for all mix categories? PLEASE, share what niche you plan on going and whats your idea. If you're having trouble deciding, Think what is that, your city / province has highest demand or need for. . . If you have any new ideas that you want me to help you validate, Or you want to have a second opinion on your plan, leave your question in the below comment section.